I had a pretty awesome week last week. Not only did I get to do our first interview for the book my oncologist and I are writing about people with terminal cancers (do you have terminal cancer and want your story told? Send me an email at cultofperfectmotherhood@gmail.com!), but I also go to go down to Olympia, our state capitol, and testify before a committee hearing about a bill that would increase funding for cancer research.
How did this come about? This was the first time I'd testified before a legislative committee, and I'm not particularly politically connected these days. But I AM spending a lot of time on Twitter lately (don't judge) chatting with other cancer people–researchers, metsters, people who survived early stage disease, that sort of thing. So I'm scrolling through my Twitter feed on Wednesday, and I see that Diane Mapes, who's an awesome woman and cancer survivor who works for Fred Hutch, has tweeted that she's looking for people to go with her to Olympia to testify before the legislature about cancer research funding the next day. And I was like "I'm free tomorrow, and I didn't have chemo this week so I don't feel like shit, I could go!"
So I tweeted back at her that I was interested, and I also started messaging other local cancer friends to see if any of them were free. My friend Natasha Black was also available, and Diane was thrilled we could come. We got all the details about where and when and what the bill was about that evening, and I wrote my testimony. Having learned from my training through Living Beyond Breast Cancer's Hear My Voice Program that it's good to include the personal impact of your cancer in your advocacy, I wrote something pretty gut-wrenching about how this diagnosis has impacted me and my family. We also learned that you pair that story with an ask–in this case, research funding.
The next day I met up with Natasha and we drove to Olympia. After a lovely lunch with a friend of Natasha's who work there, we met up with the team from the Hutch, and found a spot to sit down and talk through our testimony. Now, the thing about committee hearings in our legislature is that there is very very limited time for public comment. Like, they usually give you only one or two minutes. My prepared remarks were more like 3 and a half, so I picked some stuff to trim, and then let the Hutch government relations guy (a really delightful man) read what I wrote to see if it fit the bill. He read it, and when he finished and looked up at me, he looked like he was going to cry. And I got a big grin on my face and said, "Right??? Nailed it!" And he was like "You totally did" and I said "Do you need a tissue?" Because I'm actually an asshole. LOL!
We also talked with a woman from American Cancer Society, and she gave us tips on testifying. She said to mention that we had cancer up front, because they were unlikely to cut us off if we went over time if the committee members knew we had cancer, but also said not to go too over because we didn't want to annoy the committee members.
Then we headed off to the committee room to sign up to testify before the hearing began. The hearing actually covered two bills–the first one had something to do with solar panel subsidies and was quite possibly the most boring thing I've ever sat through. Which is saying a lot, because I went to law school. The committee members seemed as bored as I was and there was plenty of fidgeting in their seats and whispering among the audience.
Finally it was time for the cancer research funding bill to be discussed. The first people who came to testify were all representatives of retailers of tobacco products, like 7-11 and a grocery store association, that sort of thing. All of them opposed the bill because it would put a bigger tax on cigarettes and other tobacco products, and that would cut into their bottom line. They all said that of course they support cancer research, just not through this tax. I couldn't help but roll my eyes.
Anyway, then it was my turn to talk. I was the first of the speakers in support of the bill, and we did that on purpose because I was the one with the terminal cancer, and the one who is currently bald. Here's a link to the video–I'm at about the 55 minute mark.
http://www.tvw.org/index.php?option=com_tvwplayer&eventID=2015060078#start=3356&stop=3519
As you can see, before I spoke, everyone was still fidgeting and there were plenty of people still whispering to each other. And then I started talking, and it was like the air had been sucked out of the room–everyone stopped. And I knew they were listening. It was SUCH a good feeling. When you have cancer, there is so much out of your control–how you feel, whether it progresses–so to have a moment where I felt that I was doing something, that I was speaking for my community and actually being heard, that was powerful. That meant a lot to me.
Natasha spoke after me, and her words were so moving too, it was really powerful. She has such horrible side effects from her treatment that are lingering months after the slash/poison/burn is over–as do so many cancer patients. And just as the ACS person had said, they didn't cut us off when we went over time with our testimony. LOL!
After we finished speaking, that woman who spoke just before me, from the grocery industry, came up to me and Natasha and thanked us for coming and wished us all the best. You guys, if I hadn't known that I was on TV right then, I would have told her to go fuck herself. I mean, I get that's their job and whatever, but the assholery one must engage in to oppose cancer research funding because it'll cut into the money you make selling cancer sticks, ooops, I mean cigarettes…like, honestly I wanted to say to her, "If you care so much, how about you take the profits you make from selling carcinogens and donate it to Hutch? Oh right, because you don't." But, because I knew I was on TV, I just smiled politely and shook her hand.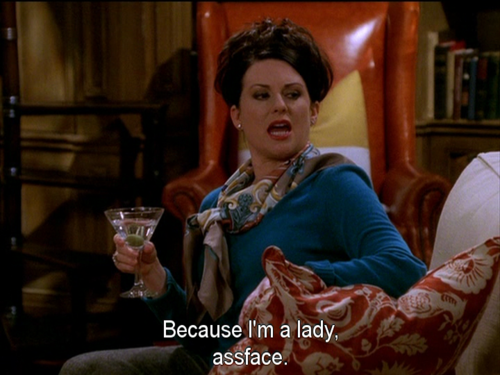 Then the folks from Hutch spoke, including Diane and another Hutch person who survived Hodgkins, and also the Hutch government relations guy, and a brilliant Hutch researcher. I felt like we each laid out our case about why research was important, from several different angles.
And then we headed out of the hearing room and high-fived each other. The committee chairman and another representative came up to us in the hallway and told us thank you for coming and sharing our stories and how much they appreciated hearing our voices. That was pretty cool. And the ACS person said she doesn't get moved by cancer testimony after hearing so much of it over the years, but we really moved her. It was good to hear that we'd done everything we could.
Then we headed outside, and took this picture: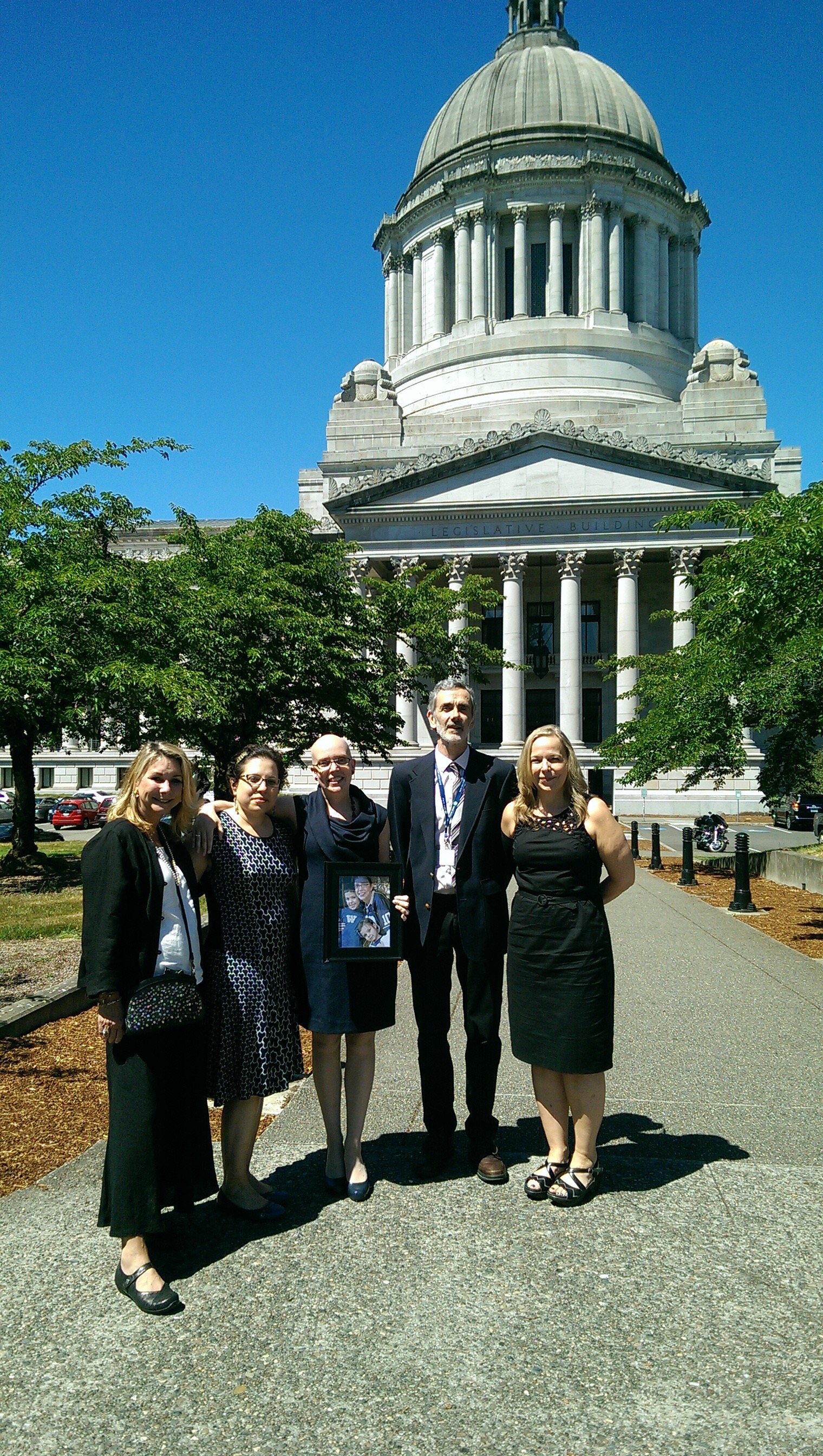 I think a lot of folks feel really nervous about speaking to legislators. But you know what? They're people, just like us. It's not like they have magical superpowers that make them better than anyone else, and like, if you piss them off or something, they're not going to shoot lasers out of their eyeballs or whatever. There's no reason to fear them, and we have everything to gain if we can convince them to use their power to help us.
The bad news is, the version of the bill that the committee was considering didn't pass. The good news is, a different version of the bill is still alive in our state senate. So, if you live in Washington, I urge you to contact your state senators and ask them to support SSB 6096 and the proposed striker amendment. The Senate bill creates a new cancer authority, funded by new revenue generated by greater tobacco enforcement, rather than by a new tax on tobacco. Personally I don't care where the money comes from, as long as it gets spent on research. Because, as I said in my testimony, it's what will keep me alive.
I enjoyed the experience of testifying at this hearing so much, I'm really hopeful I'll have an opportunity to do it again as soon as possible!
UPDATE JUNE 30: The Senate version of the bill passed both houses of the legislature by overwhelming margins and is being signed by the governor today! VICTORY!!! Thank you to everyone who reached out to the legislators, and thank you to those legislators and Governor Inslee for supporting this bill!