You guys!!! Tomorrow is book launch day for I STILL Just Want To Pee Alone! I'm completely freaking out! That means that you can order a copy from Amazon! It also means that book signings are coming!
If you live in the Seattle area and you want a signed copy of the book, well, you're in luck! I'll be speaking at this year's Taste of MamaCon, which happens on April 4 at Verity Credit Union HQ. It's free, but you need a ticket, which you can get here. I'll have a table there where you can buy a copy of the book if you haven't already, and I'll be signing books there too, along with the amazing Rebecca Gallagher.
Can't make April 4? No worries, because we're also doing an event we're calling Garden Party Book Club–it's a book signing/cocktails/jazz event at Sole Repair on Capitol Hill on May 4. Did I say jazz event? I sure did–the amazing Emily Asher's Garden Party is coming back into town and they're playing a show at our book signing! Or, we're having a book signing at their show? Either way, tickets are $15 and are available at Brown Paper Tickets. I know it's a weeknight, but don't worry, we're starting at 6:30, because we're old ladies and we can't stay up late. Rebecca will be there too, as will the awesome Tracy DeBlois, and I'll be wearing an incredible ensemble styled for me by the amazing Dana of dMarie Vintage. Will I be sipping a cocktail while wearing vintage purple suede gloves? You bet your sweet ass I will. I might even swing dance. BAM.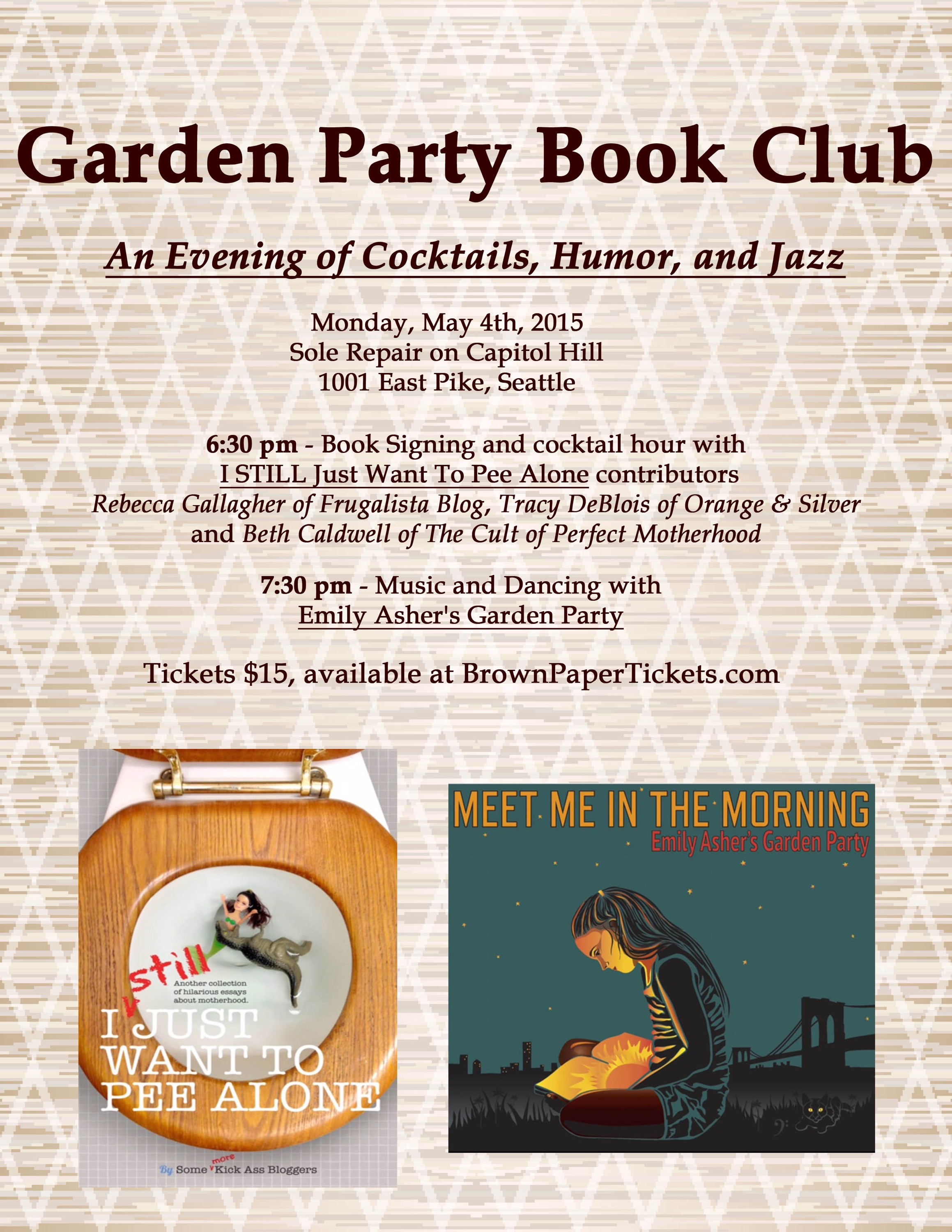 Can't make either of those? No worries, because we're also going to be at MamaCon on May 15, which is the weekend after Mother's Day! Rebecca, Tracy, and the stupendous Michelle Back will all be there, because we're the Friday night entertainment. We'll each be reading something funny from our blogs, and then we'll be selling and signing books. The Friday night festivities are free, but if you only come for Friday night, you're really missing out on the awesomeness that is MamaCon. The speakers on Saturday are going to be amazing, plus you get free spa treatments with your ticket price! Heck, there's even going to be a dance party Saturday night. A DANCE PARTY. Seriously, you guys, just go get your tickets already, would you?
And if for some reason none of that works for you, well heck, drop me a line and I'll see if I can connect with you. Got a book club? I'll come to it. Your PTA board need presents? I'll come to your meeting and sign books there. I'm that committed to this book. It's filled with amazing writers and I'm incredibly proud to be a part of it.