YOU GUYS. I'm so excited because today's post is by a celebrity guest blogger! In fact, she was the runner-up in Blogger Idol 2013! That's right, it's Jennifer Hicks from Real Life Parenting! Jennnifer was one of the first bloggers to reach out to me when I first started my blog, because she's one of those awesome women who's not just about doing her thing, she's also about forming a community to lift up other bloggers. AND, her husband makes a mean cocktail, so I asked if she'd be willing to share one of his awesome recipes, and she graciously accepted! Without further ado, here's Jen!
Cheers to Almond Joy … sometimes you feel like a nut.
Exciting news calls for a celebration … and a celebration calls for a toast … and a toast calls for a drink.
There are so many reasons to celebrate. In my house we like to shine a light on the good things in life–you know, important stuff like a job promotion, good grades, positive results from a medical test, booking a vacation, starting a vacation, starting dinner, finishing the laundry (just kidding, that's a myth), catching up on the DVR, cleaning the bathroom, getting the mail, taking out the recycling, feeding the cat, seeing that someone else changed the toilet paper (still kidding, a girl can dream), getting the kids out the door for the bus, remembering to pick up said kids from after school practice … All excuses to have a drink important things to celebrate.
Hubbinator is an engineer by day, but a bartender extraordinaire by night. His margaritas are world-class. I almost can't drink one when we're out anymore because they don't come close to his masterful concoction. His recipe for Long Island Iced Tea will knock your socks off. It's become our traditional celebration drink with his family for every holiday. His simple but addictive Stoli Doli will have you knocking on our patio door all summer asking if he's got any ready. (It's a pineapple-marinated-in-vodka-delicious-drink so the prep time is a two-week wait.) He will fool you with his Bellini Martinis–they're smooth and delicious so they go down easily–too easily if you're not counting and you could find yourself sleeping in our extra bed! They're one of my favorite summer drinks. Almost as good as his mojitos. Mmmmmm. Mojitos.
He can create and whip up nearly anything you want based on what you like. Did you have a fruity something-or-other when you were out one night and you want it again? Describe it to him. He'll make it. You don't have any idea what went into that drink? No worries. He'll figure it out. Do you have only a few supplies on hand but want a satisfying drink? Hubbinator will put together something you'll like. He's really good.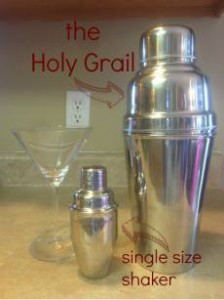 So, in December we had a reason to celebrate–a real one, not just the I Remembered To Breathe All Day kind of cause for celebration. (We may or may not have used that as an actual reason to mix 
up a martini in the past. Don't judge.) When I found out I made it into the Finale for Blogger Idol, Hubbinator declared it a legitimate Cause for Cocktails and asked what I wanted. I said I was in the mood for a Mudslide-
ish
drink
 but not quite as sweet because I was pretty sure I wanted 

the

holy grail to myself 

more

than one.
Off he went to conjure up that night's beverage. After listening to bottles clinking, all kinds of pouring, several taste testings followed by various sounds of approval or not, more pouring, more shaking and a final pour into glasses, Hubbinator presented the Almond Joy. He had even taken the time to notch out some almonds to put on the rim of the martini glass–thus the Almond part of the Joy. We held up our glasses and said "Cheers!" His streak of excellent bartending continued! It was chocolatey with a hint of coconut and something nutty, not too sweet, but just right. The second time he made these (because they had been on my mind since the first time!), he made a little rimmer out of cocoa and sugar–It was good, but I preferred the original with just the almonds on the rim.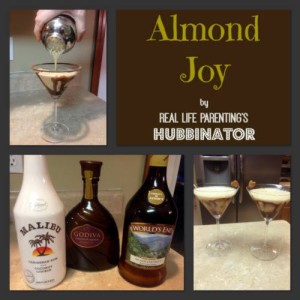 If you're in the mood for something perfectly decadent, you should try Hubbinator's Almond Joy.
• 1 part Chocolate liqueur (he used Godiva)

• 2 parts Coconut Rum (he used Malibu)• 1 part Rum Cream Liqueur (ours was something we brought back from Jamaica a few years ago)
Combine ingredients in a shaker with ice and Shake Whatcha Mama Gave Ya! Swirl some chocolate syrup in a martini glass and add some crushed ice. Shake again, pour, toast, and enjoy.
*To make a single drink, 1 part = 1 shot (about 1.5 ounces)
Here's hoping you have something to celebrate in the near future!! Remember: breathing can be tricky, so if all else fails, you can celebrate that mostly involuntary body function with a yummy Almond Joy!

Jennifer is a mom of two teens, wife of one grown-up, and food bowl filler of the family cat. She has spent some years as a stay-at-home-mom and others as a high school teacher. She writes about the good, the bad, the ugly and sometimes the very funny at her blog, Real Life Parenting. She was the Blogger Idol 2013 runner-up, has been featured on BonBon Break and Erma Bombeck Writers' Workshop, and is a contributing author in the book The HerStories Project: Women Share the Joy, Pain, and Power of Female Friendship.